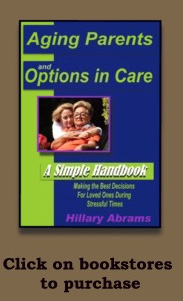 SPEAKING ENGAGEMENTS
For information on setting up a speaking engagement, contact Hillary at: hillary@hillaryabrams.com
Hillary speaks extensively on issues of eldercare, addressing three primary audiences:
Organizations and Support Groups:
Daughters, sons and other caregivers need basic information and reassurance that they are doing okay and doing the best they can under stressful circumstances. They want practical advice on how to help their aging loved ones and how to take care of themselves during this trying time.
Healthcare Professionals, Financial and Legal Consultants:
Many professionals need guidance in how to best help families dealing with aging loved ones such as medical professionals, financial and legal individuals. Hillary offers solid information and reinforcement to clients and family members.
Corporate Employees:
Studies suggest that 20-25 percent of the workforce is actively involved in eldercare and that figure is on the rise. In addition to their regular workday and home responsibilities, these people are providing, on average 18-20 hours of care a week. Nearly one in five caregivers provides more than 40 hours of care each week.
Employees who are prepared and educated about eldercare are less apt to be called away from work because of a crisis, distracted at work, or forced to leave their jobs.
By booking Hillary for seminars, employers will be promoting productivity and morale and contributing to employer/employee relations.
Prior Speaking Engagements
Alcatel-Lucent, North America "Caregiving as a Family"
Amedisys Home Health Services, Atlanta- Intake Specialists, Clinical Managers, Case Managers
Arthritis Foundation (Georgia Chapter)- Educational Roundtable Discussion
Beauty Becomes You Foundation (Non-Profit), Atlanta- Active Adult Educational Program
Blue Cross Blue Shield of Georgia: Columbus, Georgia
Brandeis University(Atlanta Chapter)- Women's Study Group
Ceridian- Employee Benefits Program, Lifeworks: National Webinars on Aging
Clinical Resources, Atlanta:Continuing Education Seminar on Aging to National Nursing Home Administrators
Cobb County Government, Marietta, GA, Employees
Coca Cola Headquarters, Atlanta
Dorothy Benson Senior Center, Sandy Springs- Active Adult Educational Program
General Electric Regional Headquarters, Alpharetta, Georgia
Gentiva Healthcare, Atlanta- Intake Specialists, Clinical Managers, Case Managers
Georgia Association for Physician Assistants, Atlanta Winter Conference- Discussion of Eldercare Options for Elderly Patients
Guardian Home Care, Atlanta- Intake Specialists, Clinical Managers, Case Managers
Hewitt & Associates - Atlanta, GA
Humana Insurance - Atlanta, GA
Johnson & Johnson Healthcare: National Webinars "Talking With Your Parents About Their Future"
"Nurse View" Radio Program, Sandy Springs/1620AM- Discussion of Options in Care for the Elderly
Macy's South Corporate, Atlanta- Employee Healthfair Discussion
Midtown Athletic Club, Atlanta- Adult Children Caregiver Support Group
Morgan Stanley
National Multiple Sclerosis Society, Atlanta- Educational Seminar and Healthfair
Pfizer Pharmaceuticals
Piedmont Hospital, Atlanta- Rehabilitation Unit: Continuing Education Seminar for staff Case Managers Department: Educational Seminar
ReMax Communities, East Cobb County Office- Educational Seminar for Real Estate Agents
Unique Logistics, Atlanta, Georgia
United States Senate and Staff
Valassis Communications, National Webinar on Healthy Aging
Visiting Nurse Health System, Atlanta- Intake Specialists, Clinical Managers, Case Managers
Wellpoint, California: Anthem EAP for Employees of Wellpoint/BCBS
Women In Networking, Marietta- Women's Business Networking Organization